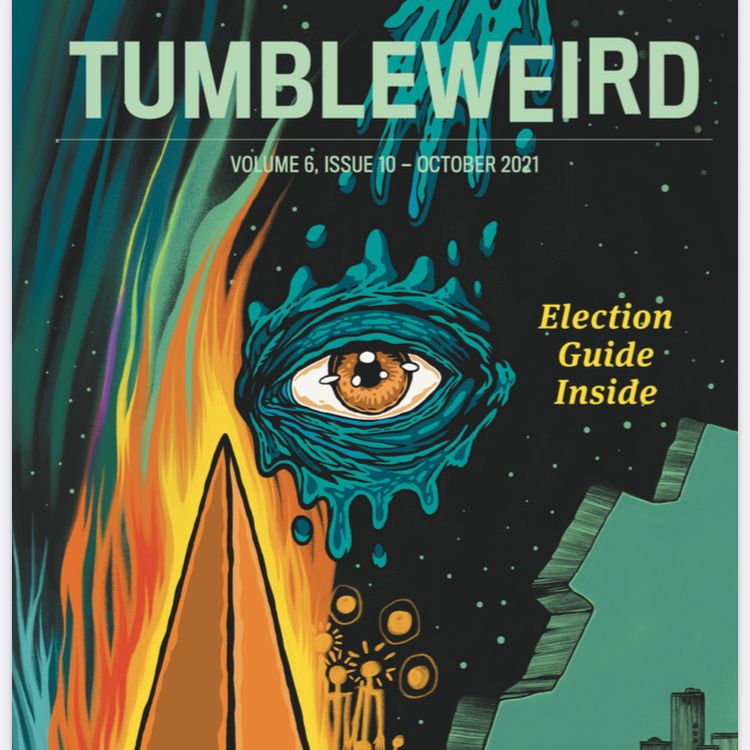 Latest issue of "Tumbleweird" Magazine features interview
Dave discusses the making of "Sol y Sombra"
HThe issue of "Tumbleweird" a local magazine in Richland, features an interview in which Dave talks about the making of the new album, "Sol y Sombra."  
New album, "Sol y Sombra," coming September 20!
My most ambitious record to date
I have a new album coming out next week.  It's called "Sol y Sombra."  I am very proud of it - and sincerely hope that you will all give it a listen.  If you are familiar with any of my music, it will probably surprise you.
Like many artists, most of my time during the pandemic was spent writing and recording music.  Naturally, events surrounding the pandemic colored almost everything that I wrote - and, while it may be tempting to call this a "pandemic record," that would be an oversimplification.  I can say that I was tremendously affected, both spiritually and emotionally, by the death of three members of my extended family shortly after the start of 2021.  At about the same time, my wife and I were fortunate enough to be amongst the first to receive the COVID-19 vaccine.  So I think that we were both grappling with a profound sense off sorrow and loss while also feeling that, perhaps, the worst of it would soon be behind us.  So it is these two seemingly contradictory emotions that color most of the material on the album.  I believe that many of you may have had those same kinds of feelings that we had.
Now, with the emergence of the Delta variant of the Covid-19 virus and the resurgence of the pandemic, I had to consider if some of the more joyous elements of the album were now somewhat false...I actually considered shelving the whole thing until this whole nightmare is over - but that seemed wrong, too.
In the end, I decided that those joyous moments are still worth celebrating and looking forward to experiencing again one day.  After all, shouldn't we all be trying to bring more joy into the world when we can?  As my wife said today "You know, we should all be trying to be the "silver lining" in all this" - in the way that we treat everyone we meet each day.  I love that.  Let's do that.
While "Sol y Sombra" is not a full-blown "concept album," it does tell a story.  I know that, these days, it's tempting to listen to a couple of songs and move on.  I hope that you don't do that.  Most of the time, musicians like me spend a great deal of time sequencing an album so that it takes the listener on a journey.  So I hope that you'll put it on from start to finish.  I did my best to make it a journey that will be fun and satisfying.
I had some amazing people help me complete this record.  Kristoph Klover, (a Bay Area recording engineer/songwriter/guitarist/vocalist and owner of Flowingglass Music), my onetime musical partner, offered suggestions on how to mic acoustic guitars.  Renaud Buffoni, the owner, designer and master luthier at Mirafone Guitars, offered some excellent mixing suggestions (turn up the drums!) and, once again, Daniel Brummel (Weezer, Ozma, Sanglorians) did an amazing job at mastering the completed tracks.  These guys are real pros, and I am tremendously blessed to have them on my team.
When I was nearing completion of the record, I sent the completed tracks to a musician friend of mine for his input on how I could make it better.  He offered some excellent suggestions (most of which I agreed with and tried to implement), but his written critique concluded with the following summary:  
"This is your masterpiece. I genuinely love it from start to finish...
By listening to this album, it made me remember why you're one of my favorite artists: you definitely master the art of songwriting."
Masterpiece?  I don't know about that (although it was certainly nice to hear), but I can say that I probably came closer than I ever have to accomplishing what I had envisioned for the record to be - both musically and sonically - with "Sol y Sombra."  
I hope you like it as much as I liked making it.
"Front Row Seat" video out now!
Shot entirely in my neighborhood in Richland, Washington
The pandemic taught me to appreciate the beauty that I can see from my own backyard.  It was a good lesson!
"Like You Do" music video to premiere on February 22!
on YouTube and Facebook at 9:00 am PST
The new music video for "Like You Do" starring two very special guests, will be released on the same day as the "No Hard Feelings..." album. 
The video will be available on YouTube and Facebook.  Click on the button to watch!
Don't forget to share with your friends!
"You're Never Gonna Lose Me" (Daniel Brummel Remaster) Video is available now!
New, remastered audio from the "No Hard Feelings..." album
The original video, with new audio from the "No Hard Feelings..." album debuts on YouTube and Facebook today!
You can watch it here!
New album, "No Hard Feelings"
Coming February 22, Pre-Sale Starts February 8
TIn 2020, I released an album called "Full Moon Over Crazytown," which was, conceptually, largely focused on the political and social issues surrounding the Covid-19 pandemic.  After that album was released, I followed it up with a couple singles ("You're Never Gonna Lose Me" and "Corrugated Girl," both included here) that were much more lighthearted in theme and tone.  Frankly, I really got a big lift from those songs, and I decided to make my next album an album of songs that were, dare I say it, more "positive."  So, as the pandemic raged on, getting worse by the month, and our political scene grew more toxic every day, I squashed every impulse that I had to unleash my anger through my music and only entertained song ideas that were happy, funny or ridiculous.  I wanted to make an album that was fun.  It was what I needed.  It was what, I believe, the world needs right now.
"The Rules of Christmas" EP coming November 27
iTunes Pre-orders start November 16
When I finished "Full Moon Over Crazytown," I continued writing and recording as the pandemic continued to rage through the U.S.  However, I took a break from the new material one day and revisited my two Christmas tunes:  "The Rules of Christmas" (from 2017) and "The Story of My Birthday" (from 2018).  Since neither had ever been officially released, I decided to remix them.  That got me in the "Christmas spirit," so to speak, so I wrote a couple new Christmas songs: "My Christmas Wish" and "Psyched For Christmas" and packaged them all together for an EP titled "The Rules of Christmas."  
"The Rules of Christmas" will be available on November 27 on all digital outlets and on CD through my online store.